Description
It is a perfect solution for those of you who don't like wearing hats 🙂 A loose hooded cape is not only extra warm but it also plays the role of a scarf and – if necessary – the role of a hat. It is extremely warm due to the overlapping of two layers of fabric: fancy khaki wool and thick light green fleece. The inside of the hood is lined with non-static cotton. The cape has three clasps: one under the neck and two on the shoulders. Thanks to its shape and width, it doesn't restrict one's movements. The cape was made in one unique copy. Design and crafting: Alina Tyro-Niezgoda.

Rozwiązanie dla tych z nas, którzy nie lubią czapek 🙂 Lużna peleryna zkapturem nie tylko dodatkowo ogrzeje, ale również spełni rolę szalika i – w razie potrzeby – czapki. Niezwykle ciepła dzięki nałożeniu na siebie dwóch warstw tkanin: fantazyjnej wełnianej w kolorze khaki oraz grubego polara w kolorze jasnozielonym. Wnętrze kaptura wyłożone nieeletryzującą się bawełną. Peleryna zapinana jest na trzy zatrzaski: jeden pod szyją i dwa na ramionach, a dzięki swojemu kształtowi i znacznej szerokości nie krępuje ruchów.
Pranie ręczne w delikatnych środkach piorących, w temperaturze do 30 st.C. Peleryna powstała w jednym, niepowtarzalnym egzemplarzu. Projekt i wykonanie: Alina Tyro-Niezgoda.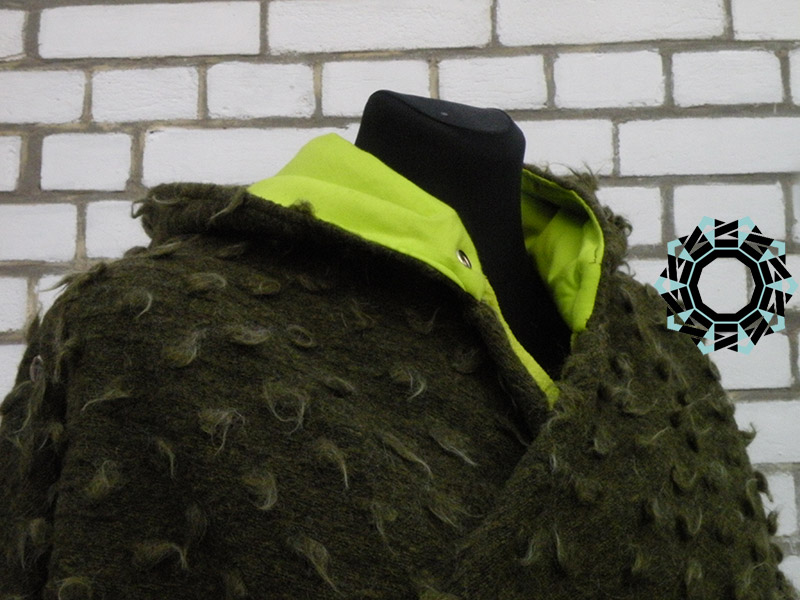 Zapisz
Zapisz
Zapisz
Zapisz